On the face of it, setting up and managing a customer database may not seem to be the number one priority for plumbing, heating, gas and electrical installation and service companies. However, it should be.
The benefits are summed up in three words: "know your customer". In any line of commercial business, nothing is more important, apart from your own professional expertise. I assume the latter to be a given and that I can teach you nothing about being a good plumber or gas engineer etc., so your number one priority, which is the focus of the document, should be to use modern technology to improve your knowledge of your customers.
This will enable you to treat each one of them as they would like to be treated, as individuals with particular needs. Collecting better information about your customers, and then acting on that info, can really improve your profitability. If you are a very small business with few customers and you are happy to stay that way, this book is perhaps not for you. If you are already of such a size that you can't possibly remember every detail about every customer, or if you want to scale up your business, I recommend that you read on! With the right software and a little expert help, it does not have to be difficult. You certainly do not have to be an expert in computer software or data management. However, to get maximum benefit you do have to be systematic in your approach and you need to get everyone in your company doing their bit to ensure that the data is maintained, up to date and actionable. In this eBook, I am going to explain in simple terms how to achieve this.
What you might have now
Most of the companies that I speak to have moved beyond paper-based and card-based customer records. Usually, they either have a crude database that is not related to their business and simply duplicates what you would find in a card-based catalogue or else they have a list of companies in an Excel spreadsheet. If so, you should think seriously about moving to a purpose-designed customer database system. It's shocking how people still use spreadsheets to manage data. There is no way to control access, no way to audit changes, and everything gets out of hand very fast. Using a database where you can centralise information, assign different access rights to individuals in your company, and finding the data you need immediately and for any purpose is paramount for businesses that have ambitions.
A customer database also makes it easy to segment your customers. You will find that word cropping up several times in this book. Segmentation means sorting your customers into meaningful groups. This is very useful for managing and communicating with customers but it is very difficult to do, and even more difficult to act upon, using a spreadsheet or even a general-purpose database.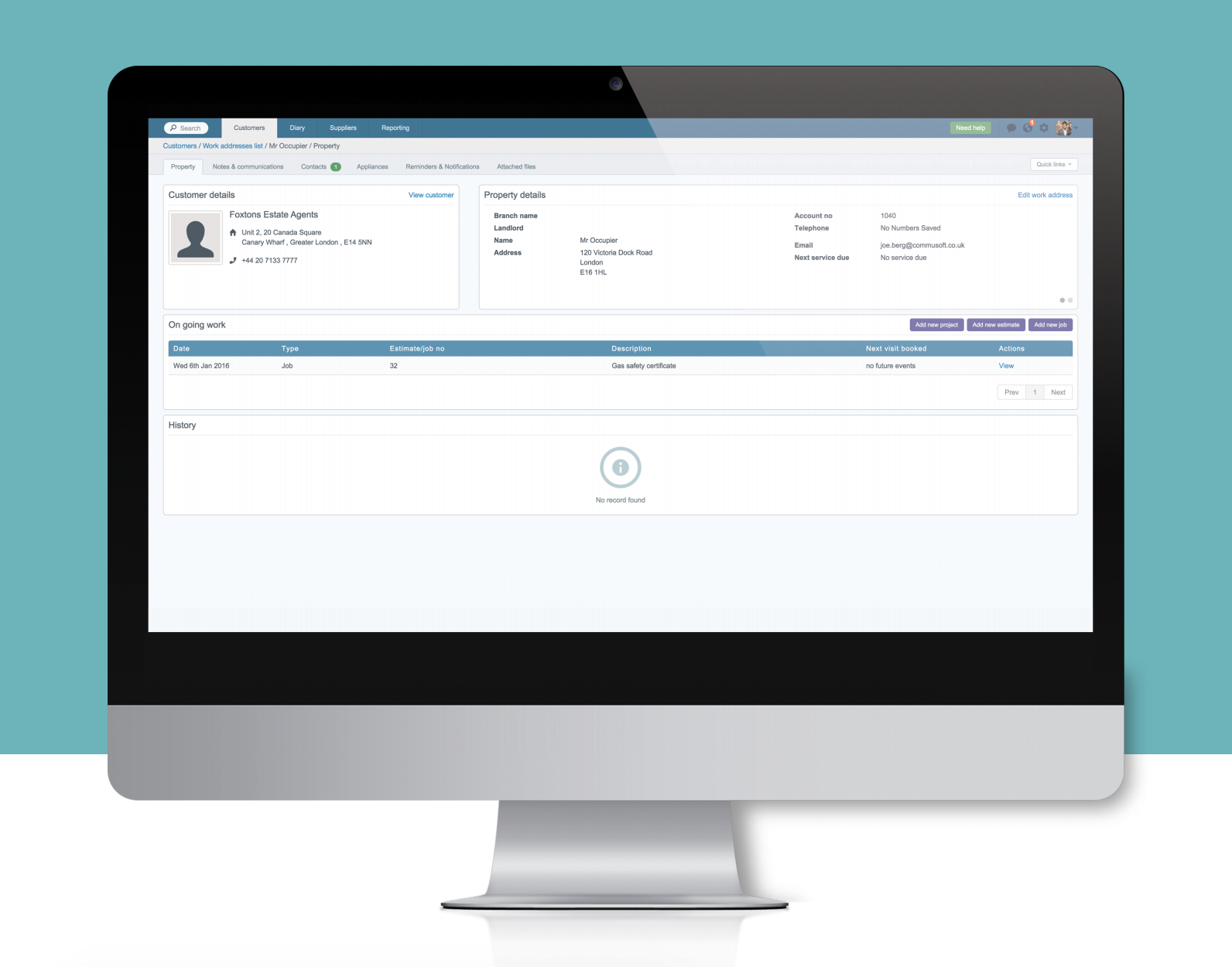 Key benefits of a customer database
First, let's consider some of the main benefits to a company of implementing a customer database.
a. Improve your operational efficiency
Lack of knowledge about customers is a major reason why companies waste a lot of time and effort and the root cause of a lot of money being left "on the table". An effective admin system is essential for managing appointments and engineers' time but it will only get you so far in terms of managing your customers. You need to be able to see what has happened in the past, and it is near impossible to do this with a manual or spreadsheet-based system. (You may also be interested in downloading our Checklist to Efficient CRM Management and learning more here). Being able to see a customer's history quickly and easily on-screen lets you answer their queries faster and more accurately. This not only speeds up your response and avoids long phone calls, but also impresses customers with your professionalism.
b. Get more repeat business
It is generally reckoned to be far more profitable to get repeat business from existing customers than it is to win new ones. Yet most companies lose existing customers to the competition by not staying in touch or not being sufficiently aware of their specific needs. Your customer database can help you get more of your customers coming back and buying again. Why? Because you have a profile of the customer and their property, what services they have had in the past when they are due for a service check etc.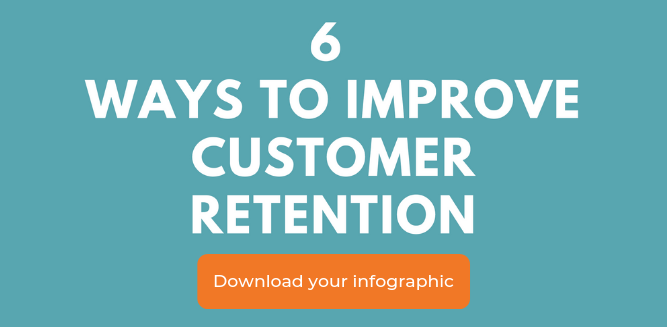 Take the details you know about your customers and use that information to connect with them again. Just a simple but timely service reminder is often all it takes – but you cannot do this efficiently without information, especially once your company has grown beyond a certain size.
c. Discover your ideal customers
Ideal customers are the ones you want more of. Your customer database can help you discover the customer profile that is best for your business. With a customer database, you can identify customers who spend the most money with you and are most profitable (with a customer database you can look at the bottom line, not just invoice totals). These are the ones that should be at the front of the queue during busy periods. However, bear in mind that good customers are not all the same. For example, some like to be contacted by telephone, others by SMS or email. By responding to their preferences, you will keep them on board – and even if you are this year's Mastermind, you are not going to retain all of this vital information in your head. A customer database enables you to tailor your approach to please these ideal customers.
d. Produce happier customers
Every business wants happy customers. Which begs the question, why do some businesses produce unhappy customers? The truth is, sometimes a business loses touch with the customer's needs. A strong database can help you make sure that you are doing everything in your power to please the customer. You cannot do this with a manual list, card file or even a spreadsheet. You need to be able to use it to keep track of conversations, assign To-Dos, and stay on top of your relationships. The fact is people expect this now. When you contact your bank, insurance company or utility, you are no longer surprised that they have a record of your interactions – and because they do, they can get straight to the point and offer you the kind of help and advice you are looking for.
Customers increasingly expect this even of smaller businesses. It also helps to keep the relationship on a friendly level. In addition to information that is directly related to your business, you can use your database to keep information such as the names of all the members of a household and even their birthdays. The trick is to use this information to give your business a human face, without being too intrusive
e. Give your relationships "context"
Context, marketing experts tell us, is extremely important to customer relationships. Imagine that you get into a difficult situation, such as a customer phoning to complain about the service. Without knowing the context, it is all too easy for you or your admin staff to get defensive or into an argument. Before shooting off at the hip, wouldn't you like to know the background information? If updated by your engineers and office staff systematically, your customer database can give you the full picture on that dissatisfied customer. Maybe they have a troublesome history. Maybe they are unprofitable, more trouble than they are worth.
Or perhaps they are a profitable customer, and this is a one-off, in which case you will probably decide that it is worth the trouble to do everything possible to put things right. Either way, you need to see these details before responding. Good context helps with everything from up-selling to customers to dealing with late payments and getting referrals. If you are not sharing customer context via a database, you are missing out.
f. Build better internal and external business partnerships
A customer database is all about collaboration. By keeping customer details in one place you have "one version of the truth", ensuring that admin staff and engineers are on the same page when talking about customers. Also, it is not always possible or advisable for the same engineer to service a customer.
With a customer database, knowledge is shared so the engineer will not be going in "cold". You can create a lifetime relationship with the customer, even as engineers come and go. You can pass along important assignments and rest easy that they will be accomplished efficiently because the engineer has the requisite knowledge. Moreover, in all probability, you work in partnership with other companies such as building firms on a lot of projects.
It is useful if you can share information about customers with them – and this, in turn, will help to build a relationship of trust with the partner. Just be aware that the sharing of data between companies is governed by data protection laws – however, you can build safeguards into your customer database (such as getting explicit permission from the customers to share data for specific purposes) to keep you on the right side of the law.
g. Conduct more effective promotions
Without a customer database, promotional activity (such as email and direct mail campaigns) is time-consuming, inefficient and, in the worst case, can do more harm than good. If set up properly, the difference between promotions without a customer database and data-driven marketing is like the difference between carpet bombing and precision targeting.
First, because you can segment your database to identify the customers who are most likely to be receptive to your campaign. For example, if you have started installing a new type of boiler you would want to exclude customers that have recently upgraded from your promotional campaign. Or if you are getting into selling smart thermostats, you would want to identify a list of customers who are most likely to consider the purchase (these typically include young couples with children).
Second, using a customer database and a mail merge facility, you can create dozens or hundreds of personalised emails or letters in the time it would knock up just a couple manually.
h. Reduce admin costs
Finally, we should not forget to mention that a customer database will massively reduce the amount of time you spend chasing after bits of paper. This is especially true if your engineers can access the database with a mobile app.
Service records are automatically uploaded to the database so there are no delays between doing the work and being able to invoice, and documents do not get lost or forgotten in the back of the engineer's van. Plus, as well as saving yourself admin headaches, this can also be of benefit to the customer. Supposing, for example, the customer needs to produce a gas boiler safety certificate for an insurer, but cannot find it. If you have an electronic record of the certificate in the customer file, you can simply send the customer a pdf copy in a jiffy.
The benefits of a customer database are therefore clear and overwhelming. But you still need to do it right. By adhering to the guidelines that follow, you will see the maximum impact on your company's profitability and long-term success.
Get everyone on-board, from the start
It is critically important that everyone on the team should understand why you are looking to build a database. Do this in person. Call a team meeting at a time that suits everybody and run through the benefits listed in the first chapter, emphasising those that are most relevant to your business. It is best if you can highlight the fact that a customer database is essential to take your company to the next level. Your employees will feel reassured that it is the right thing to do, and that it will not only help secure their jobs but potentially provide more interesting opportunities. Do not be put off by the fact that some people – and this may include your most committed and positive members of staff – will raise doubts. That is normal, change can be scary. Prepare yourself for the questions that will be raised. You will find answers to the questions typically asked in this blog.

You should also have one-to-one meetings with those who will be most affected. For example, that is likely to be the person(s) who handle most or all of the admin work and promoting the company. They will need to work closely with the person or team who will set up the customer database with you and it is essential that they should give their full cooperation. In order to secure that cooperation, you should highlight not only the benefits to the company, but the direct personal benefits, such as a reduction in the more boring and monotonous activities, freeing up time to do more interesting tasks such as promoting the company, and the ability to interact better with customers.
Make it a shared decision
A project like this is more likely to succeed if people feel they have a stake in its success. You will need to select a partner to supply the customer database software and get it set up in your company. Draw up a shortlist of potential partners and involve the key individuals in your company in the interview and selection process. Identify the partner who scores highest in terms of the product and the service they offer, their understanding of your business, and their personal chemistry with your team. Encourage your team members to express their opinions on each of the candidate partners. You may not be in full agreement with each other, but if the selection process is open and transparent, the implementation project is much more likely to proceed smoothly
Establish clear selection criteria
Cost is obviously an important issue when it comes to implementing a system but you need to define cost in broad terms. It is often a mistake to base your decision on a simple comparison of the initial up-front costs. Moreover, software companies have different pricing models, often dependent on the way the system is set up: does it run in-house or over the cloud, is the licensing fee on a per-user basis etc. The term that is often used here is "total cost of ownership". Ask yourself, what is it going to cost to run this system over the next five years? Also, when considering costs, think about the cost savings that the system will bring, such as a reduction in admin overheads, as well as the cost of the system itself. That way you will see, at least in ballpark terms, the return on investment.
That said, cost is only one factor, and if your company has ambitions to expand, it is far from being the most important factor. You should be asking yourself rather, "What can this particular system add to my business, and how does it compare to the others on offer?" In answering that question, consider the following:
Which system is most (easily) adaptable to the way you do business?
Which system offers the features that are of most importance to me?
Do the candidate systems integrate with programs that we already have installed, such as accounting packages?
Which of the suppliers offers the best knowledge of my business, i.e. working with plumbing, gas, oil heating or electrical service companies?
Which of the systems on offer seems easiest to use? (In answering that question, consider all of the types of devices that will be used – typically desktop PCs in the head office and smartphones or tablets out in the field)
Who provides the best training?
Who provides the best post-implementation support?
The company that you select should be able to provide relevant references from past implementation projects and from its current customers. It might be a good idea to arrange a visit to a non-competitor company that has already installed the software and has been working with it for at least a year.
Think mobile!
You have probably noticed – just about everything that used to be available on a computer – and more – is now available on mobile devices. This is a particularly exciting development for any company whose business is mainly conducted in the field, such as gas, plumbing and electrical service companies. Yet even now customer databases and customer relationship management (CRM) systems are primarily designed from the point of view of the office worker or marketer to build "backend" data, rather than the service engineer who is often the one that makes the most use of this vital information at the "frontend" of the business. When service engineers, office staff, marketers and salespeople can all access correct information on a timely basis, stronger customer experiences happen – particularly in more complex, relationship-based interactions with high-value business customers.
The bottom line is that you should make sure your information is easy to access for everyone who needs it, from their device of choice.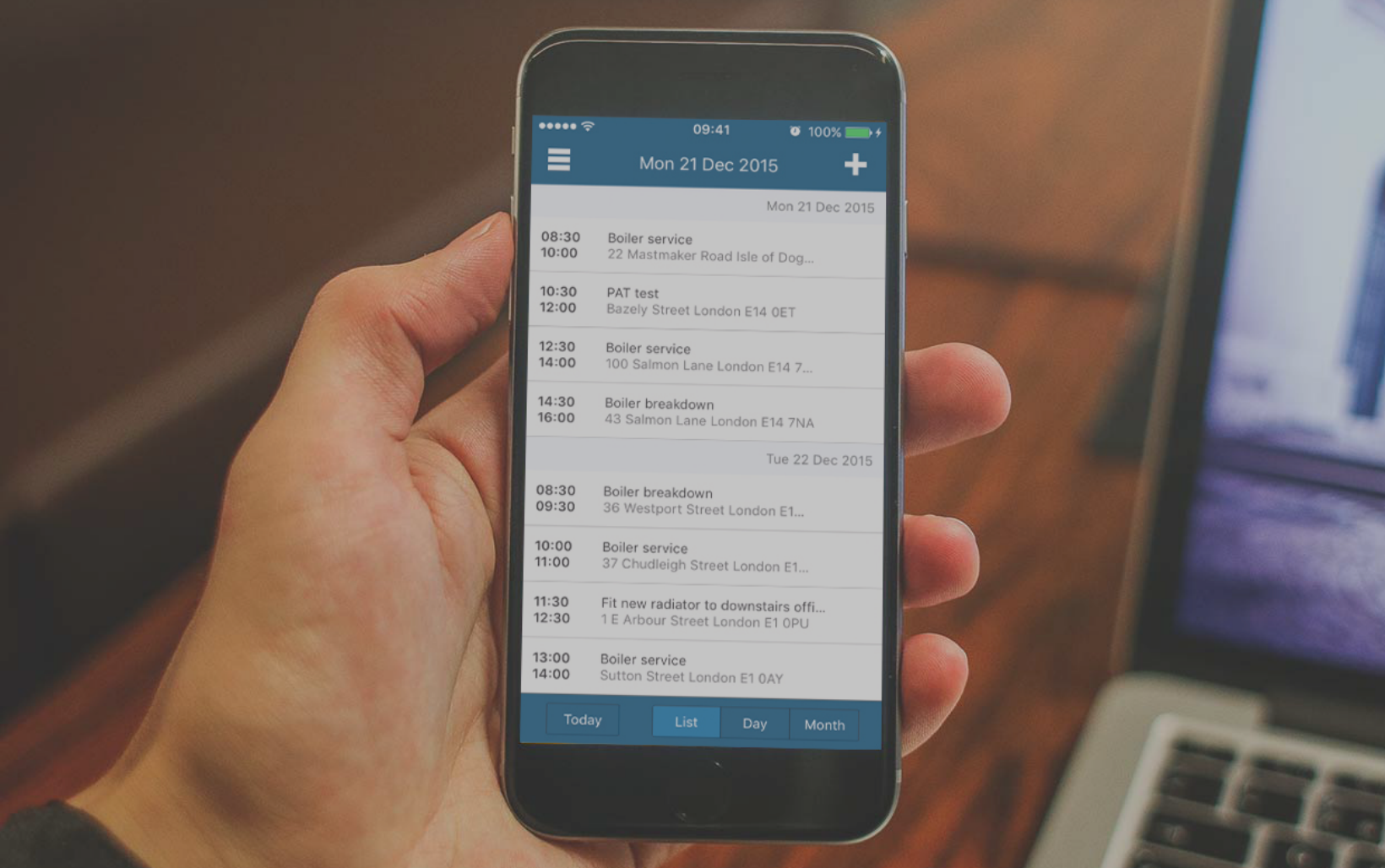 Create roles for the implementation and beyond
Let us assume you have now decided on your software partner. Depending on the size of your company, you may want to involve more than one person in working on the implementation project, but ideally someone should be appointed as the Project Leader on your side. This could be you personally, though if you are the Managing Director you will probably want to delegate. A typical implementation time would only be one or two weeks, but it is important that someone should be on hand with some time freed up from other duties during this period.
Once the system is installed and up and running, and your staff have received training (as applicable), you need to assign roles:
The system administrator – the person who is empowered to make changes to the system, assign other roles, and is generally responsible for the integrity of the data
The person who is responsible for ensuring that the data is backed up. Typically you would want to do a daily backup. This can be set up to be done automatically but you should have someone who at least checks that it happens as it should
Someone to cover for the above during their holidays
Manager (with access e.g. to personnel data)
User (admin)
User (engineer)
More sophisticated systems obviously support these different roles and allow you to assign the appropriate authorisations. When assigning these, make sure that everyone in your organisation has access to the information they need, so that effort is not wasted. It is incredibly useful for all members of the team to have access not just to the customer's name and contact details, but also to job history, service history and appliance information.
This could be the difference between engineers making the right or the wrong decision when leaving headquarters or when onsite. However, you will probably want to make some data, such as the profitability of an individual customer, visible only to yourself and one or two key members of staff.
Master data and transactional data
There are two basic types of data in a database. Master data is the consistent and uniform set of identifiers and attributes describing customers and prospects (also suppliers and partners but for the purposes of this book we are focusing on customers). This includes names and addresses, telephone numbers, installed appliances etc. Of course, this information does change and can be added to, for example when a customer changes telephone number, but it is basically stable.
It is vitally important to have what IT professionals refer to as a unique (or universal) customer identifier (UCID), i.e. a reference number or code that is unique to each individual customer. This will ensure that you have an integrated view of customers across all of your operations (servicing, sales, marketing, invoicing etc.) The reference number or code should be included on all documents relating to the customer as this will significantly ease the admin burden. For example, if you ask your customers to quote the reference number when making a payment, this makes it much easier to reconcile paid invoices against bank statements and to identify late payers.
If you already have an accounts package, it is likely that you will first populate your customer database by importing its records (your software partner should do this for you). Thereafter you need to ensure that the two systems are consistent. For example, if a customer's telephone number changes, that change should be reflected in both systems. It probably makes most sense to keep the master customer record in the customer database and to use this to update changes in the accounting package.
Transactional data relates to events. The relationship between master data records and transactional data records is therefore "one-to-many". For each master data record you will build up a lot of transactional records over time: primarily things like service records and safety certificates but also interactions such as calls asking for advice or support.
Make gathering information a habit
Now that the system is installed we come to possibly the most important point of all. Important, because it will determine the success of your customer database, the return on your investment. It is also important because it might involve something of a change not just in technology but in company culture.
You need to communicate to your team that gathering information is part of their job. A day-to-day duty. This applies to everyone, whether it is an office person taking calls, a finance person creating invoices or an engineer working onsite. Information needs to be captured and it needs to be accurate and kept up-to-date. No ifs, no buts, no exceptions. That may sound daunting but after a while it just becomes a good habit.
This is where the wisdom of your choice of software and partner will truly reveal itself. If the customer database and the apps associated with it are easy to use, your employees will be more than happy to use it, as it will be a lot simpler than filling in manual reports or entering information into a spreadsheet.
The key is to gather as much useful information about customers as possible. And not just textual information. For example, assuming that your customer database is accessible from mobile devices with supported apps, your engineers can for example upload photographs of boilers and other installed equipment, access points etc., as well as electronic (e.g. pdf) documents such as safety certificates.
On the other hand, note the word useful. You must decide on what information is "critical", what information is "good to have" and what information is "irrelevant". When considering what is "irrelevant" you should also bear in mind that customers might regard it as intrusive. Some companies collect a lot of irrelevant data. Their teams enter so much that they lose track of exactly what is important. This is less likely to be the case if you have chosen a customer database that is specific to your business.
Critical data
Name, address details, other contact details. Note which is the customer's preferred means of getting in contact (email, SMS, post or other). Details of appliances. Plus, category of customer, e.g. business or residential, owner-dweller, tenant or landlord. This information is essential for providing a good service. It is also necessary for performing basic segmentation of the data for promotional purposes: for example, some campaigns are appropriate to landlords and owner-dwellers but not tenants; other campaigns will be appropriate for businesses but not for residential customers.
Good to have data
Under this heading comes data that helps with your interactions with customers and service visits (e.g. details about the process for getting access to the property) or which may help you to segment your database more precisely for marketing purposes (e.g. it may be useful to have a record of the presence of children in a residential household). By the way, if you want to use this information for segmenting purposes, you will need some standard fields for data entry, so think about this when setting up the database.
Under this heading comes any information that will help you to up-sell or cross-sell or to communicate more effectively. For example, if it's a business customer: what sector or line of business are they in?
Perhaps the most important "good to have data" – you might even consider it critical – from a marketing perspective is an indication of how you got the customer's business. Over time this will help you to determine what is the best method for acquiring new customers and this will make your promotional activity even more cost-effective.
Irrelevant data
If you invest in a customer database that is specific to your business, i.e. a plumbing, gas, oil heating or electrical company, this should not be a problem. More general packages might have fields for things like consumer preferences, values, religion etc. In most cases this is not relevant to you and the customer would find it rather odd and perhaps even intrusive if you asked for it!
Understand the meaning of data quality
An old mantra of database administrators is "garbage in, garbage out". Faulty or out-of-date information can be worse than no information at all. Again, you can build this into your work processes. For example, when your admin staff call or email a customer they should take the opportunity to check that the information in the database is correct and current. It only takes a moment, whereas sending an invoice to the wrong address can result in wasted effort, or sending it to the wrong person can cause embarrassment and damage customer relationships. Other sources of poor data quality can be duplicate records, which can occur, for example, if a householder's name is entered incorrectly, changes name etc. It is worth investing a little time and effort to identify duplicates and merge them. Of course, it is even better to avoid the problem in the first place so your staff should not be shy about getting customers to spell out their names and addresses etc. very clearly when speaking to them on the telephone.
One way of periodically improving the completeness and accuracy of data is to get your customers to do it for you! Send out a communication by the customer's preferred means (typically email) and ask them to correct any mistakes or add information. You can do this as part of a promotional campaign, e.g. by offering a small discount for services carried out within a certain time period (typically your quiet period, probably during the summer).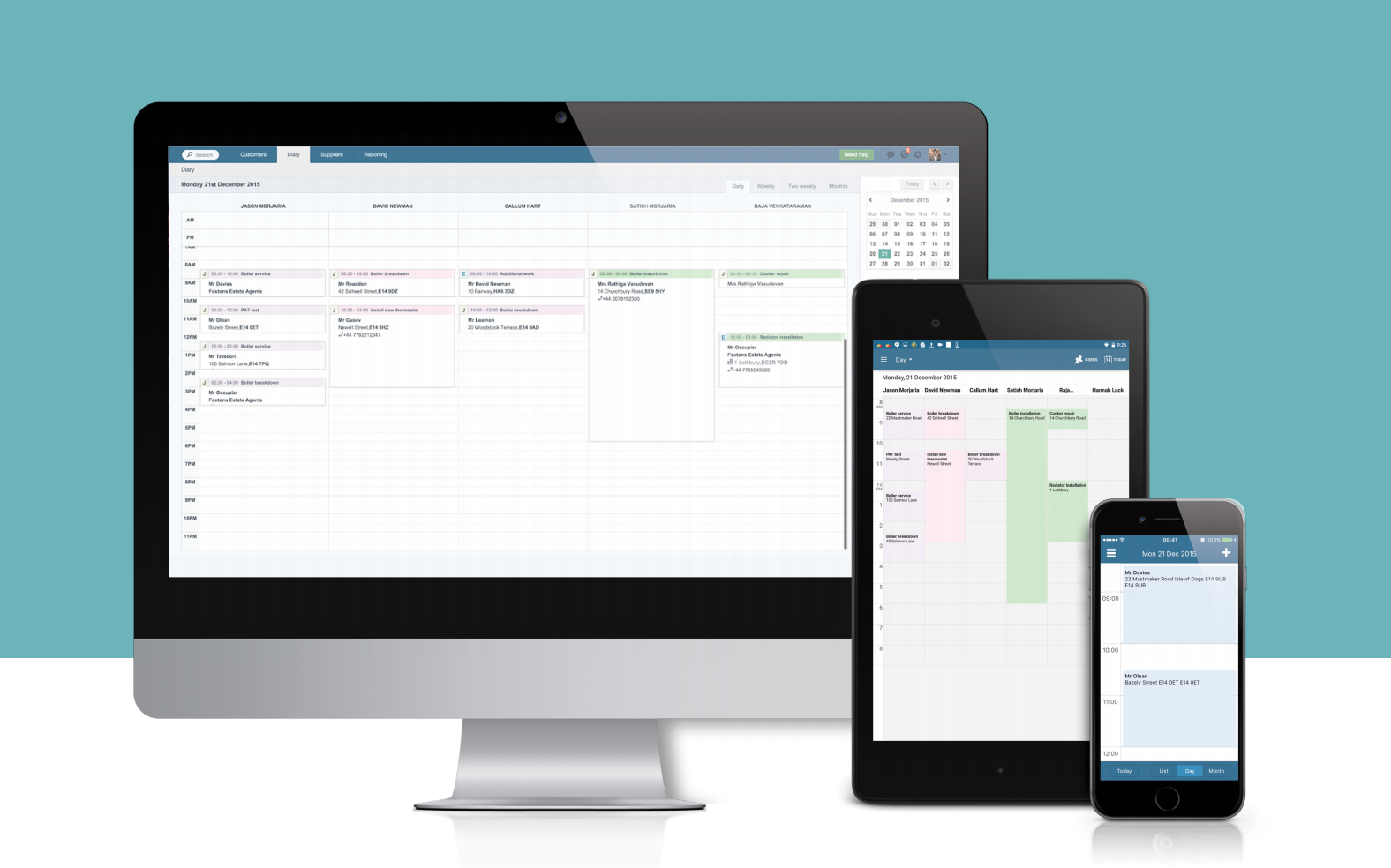 Establish some rules for data entry
To ensure consistency, you need to communicate to your team the importance of entering information in the right formats. This starts with simply being careful. For example, if entering data that has been first recorded by hand, don't simply guess your way through bad handwriting. A computer can detect certain types of errors, but it is never going to know that Mr. Harman should be Mr. Hamman! And once it is wrongly entered into the system, it may be difficult to correct. In addition to communicating to staff the need to be careful and diligent when entering data, you should establish some rules for data entry. For example, when do you use capital letters and when not?
Do you insert the name in full, including middle name, or just first name plus initial, or just first name? What do you do if there are two co-tenants with different surnames who share an appliance? What should and should not go in the first address line (if you have a house name in some and a street in others, this could lead to problems). Simple things like adding a space or a full stop after a name may make it difficult to search for information.
Getting things wrong can not only cause unnecessary administrative problems, they can also damage customer relationships or your professional reputation. We've all experienced receiving wrongly or badly addressed mailings.
On the positive side, correct data entry enhances your flexibility when creating mailing campaigns. For example, if you want to target a campaign by postcode or by telephone area code, it is important to have these entered in a consistent format. (Even in this day and age when we are all used to computers, it is surprising how many people confuse O (the letter) with 0 (zero) when entering a value!)
A common data entry problem is handling missing values. Users may assign the same blank value to various types of missing values. When "blank" is not allowed, users often enter meaningless value substitutes. Default values in data entry forms are often left untouched. The first entry in any list box is selected more often than any other entry. This can lead to problems. For example, supposing you have a data entry item for "Type of Boiler". If the system is set up wrong, or users are not properly instructed, this could end up with an engineer turning up on the customer's doorstep with parts for the wrong type of appliance.
Well-designed data entry forms and instructions eliminate or mitigate a lot of data entry problems: fields are labelled and organised clearly, data entry repetitions are eliminated, and data is not required when it is not yet available or is already forgotten. The reality of data entry, however, is not that rosy (and probably won't be for years to come). Thus we must accept that manual data entry will inevitably lead to occasional mistakes – but good processes and working habits reduce these to the minimum.
Remember also that your software partner should be in a position to offer advice on best practice when it comes to data entry. They will have come up against the same issues hundreds of times before!
Data cleansing
The process of looking for, and correcting, errors in data is known as "data cleansing". There are some tools that can automate the process (for example, generating lists of records that are near-matches and might therefore be duplicates). In fact, however, computer specialists argue that, unless you have some very powerful tools, data cleansing can end up making the data even dirtier. (Think of it like continually mixing coloureds and whites in the washing machine … eventually they all end up the same shade of dirty grey!)
First, you should encourage your regular staff to correct any mistakes they identify as they find them. Second, you might consider employing a student or other casual worker to go through your database for a few hours (or whatever it takes) to check that street addresses etc. are spelled correctly and consistently
Company mergers & acquisitions
If at any point your business takes over or merges with another company, make it a priority to merge your customer databases. Working off two systems will cause problems, whereas working off of one system is an opportunity to reduce admin overheads and create efficiencies.
Look at the two systems and decide which is the best option. This could involve making some compromises but it is likely that you will be able to implement some of the best features of both in the new integrated customer database.
Establish a customer privacy policy
If you are collecting and storing a lot of customer data, you need to stay within the legal framework.
This has been a little unclear for some time but an EU Directive entered into force on 5 May 2016 and EU Member States are required to make it national law by 6 May 2018 (this is likely to be the case whatever the UK's future status inside or outside the EU). In a nutshell, this states that information can only be gathered for legitimate business purposes with the consent of the customer. You can find details here. In the meantime it is a good idea to draw up your own data privacy statement, publish it on your company website and communicate it to your customers. Your software partner or consultant can help you with this or you can easily find examples of privacy statements on company websites. Make sure that your staff understand the importance of protecting the privacy and confidentiality of customer data.
Bottom line: if you have a clear privacy statement and abide by it, people will be less inclined to withhold data.
Increase your repeat business
Repeat business is the most profitable, and once your customers are in a database that is fit for purpose, communicating to get repeat business gets a whole lot easier and more effective. Engaging with your customers regularly and sensibly will help you to grow your plumbing, oil heating, electrical or gas service business with less effort. All too many companies focus their marketing communications on advertising for new customers. The reality is that new business comes primarily as a result of referrals from satisfied existing customers. So communicating with them effectively not only gets you profitable repeat business – it is also a good way to get new business.
The question is: how much communication? Too little and they might forget you – or think you don't value their business – and go to a competitor. Too much and they will think that you are being a nuisance or that you are "desperate". In fact, maintaining a healthy relationship with a customer is a fine balancing act, rather like maintaining a healthy and successful romantic relationship!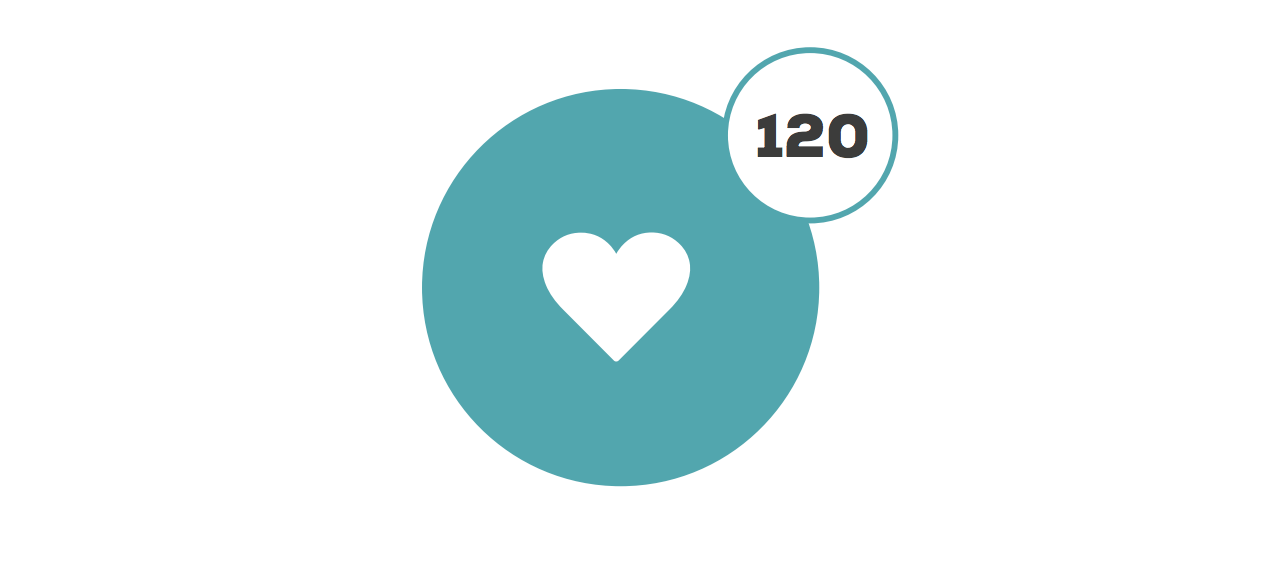 So how do you keep customers "warm" – without spamming? Here are a few simple ground rules.
As in a romantic relationship, everything needs to be based on give and take, in other words, as close as possible to 50-50. If you can provide something useful in each communication, you will often be rewarded. A simple and timely service reminder – one that is not too pushy, but rather focuses on the benefit of regular servicing – is not only the simplest, but probably the most effective of all. With a customer database, identifying which customers are due for a service reminder becomes a matter of pushing a couple of buttons.
But you can get more creative in your communications. For example, business customers like to read case studies and testimonials, so long as they are relevant. Have you recently installed a new boiler for a hotel? Then let customers in similar lines of business know about it (be sure to get the customer's permission to do so first, however).
People like pictures (they are often worth a 1,000 words). However, once again it is worth investing some time and effort to make the photograph as appealing as possible. A link to a video (for example a tutorial posted on your website or YouTube) can be even better.
Consider communication holistically
Bear in mind the full spectrum of your communications and make sure they are working together effectively. Your email campaigns will include a link to your website, so take a look at it. Does it inform, or merely promote? Consider writing a regular blog that provides useful tips to consumers of water, electricity or gas. Don't give everything away at once – update regularly, and when you do update, let the relevant customers know with a short "teaser" by email or via social media. Again, this is an opportunity to give something rather than simply promote, which makes your communication more useful to the recipients.
It costs five times as much to recruit a new customer as it does to retain an existing one. And the best form of advertising is a referral from a satisfied customer. Think of that when you plan your communications!
What we have described here is what marketers call content and context marketing. Content: provide something useful and informative with every communication. Context: provide the right information at the right time for the right customer.So once again we come back to the good old service reminder. Simple but effective: it demonstrates in a non-pushy manner that you are looking after customers (content) and (if you are using your customer database effectively) it does this at precisely the right time (context).
Finally, there is another very important word in every marketer's toolbox: empathy. In practical terms, this means putting yourself in your customer's shoes before you send any communication. Then ask yourself: would I welcome this communication? Does it make my life easier? Or am I just going to push the delete button? By looking at the information about the customer in your database, you are far more likely to make the right call, so that every communication is welcome.
Get these things right and you will build up a loyal following that will take your service company to the next level.
Manage seasonal fluctuations
Another common challenge for gas and heating service engineering companies is the seasonal overload. Effective and timely communication is an important part of the solution.
Changing customer behaviour is hard. They typically only call when they have a problem, and that usually means in winter, when they turn on the heating for the first time in months. They are not going to test it early (testing boilers does not appear high on many people's summer "to-do" list and some might even be afraid of testing a boiler in case it breaks).
As a result, you may be left twiddling your thumbs through the summer months only to be pulling your hair out come October or November when you have to cope with all the leaks, boiler breakdowns and new installations. There simply aren't enough hours in the day.
Convincing customers to think about having their gas safety certificates done in August or September is never going to be easy, but if you get it right, you can create an excellent business opportunity.
Seasonal offers are a great way to smooth out the peaks and troughs in your plumbing and heating business. They could involve a discount or additional services that you provide for free – such as offering a free Legionella test and certificate. However, you should take a few things into consideration before you take any action.
Target your marketing
First and foremost, it is not a good idea to make blanket offers. Targeted marketing is more effective – so you need to segment your customer database and think "What offer would make most sense to people in this segment?"
A blanket offer is like a machine gun – you may well hit a target but you will cause a lot of collateral damage and you will waste a lot of ammunition! For example, customers who have just had a new boiler installed are hardly going to welcome an offer of a discount for an early service. They have just forked out for an expensive appliance so it's more likely that they will be infuriated
. A targeted offer is like a single rifle shot from a crack marksman. It hits the customer with precisely the right offer at the right moment. If you have a large number of customers, this is made much easier if you can do an intelligent search and filter of your database to create segments. You should then tailor your message to the different segments (or ideally to the individual customer). Remember the word I used above: empathy. Get the right message and the right tone of voice: the way you address a business customer is not the way you would address a young single person, or an elderly couple. Put yourself in the customer's shoes and think, "Am I likely to respond to this offer?" If you are unsure, ask someone. For example, if you have a young, single son or daughter, they will soon tell you what sounds cool and what doesn't.
It is of course tempting to make a generalised offer in the hope of getting a bigger response. Now that you have a customer database, you can and should resist this temptation.

Second, don't make the mistake of thinking that customers are only interested in discounts. Few people are likely to reorganise their summer plans based on a 5% or 10% discount. On the other hand, a more substantial discount will cut into your margins and perhaps make you look desperate or "cheap".
An offer of additional services is often the better option if it leads customers to think that they are getting some additional value or convenience, for example getting two things done with a single visit. Customers are not interested in how expensive or easy this is for you to do – so long as they have the perception of added value. You could make a summer offer of a boiler service plus a free home energy assessment. So long as you do this effectively (work hard on the presentation!) this could lead to further business, either for yourself or for a local partner that you trust. And even if it does not, you will have strengthened your relationship with the customer.
The key to effective communication is a reliable customer database. It is essential to the future success of the business you have worked so hard to establish.
Ressources linked to customer database
Setting it up a customer database need not be difficult, especially if you already have most of the basic information in some form of electronic format, such as in an accounting package or an Excel sheet.
Links: